Bushnell Backtrack Dtour Personal Gps Tracking Device In Red
Bushnell Backtrack Dtour Personal Gps Tracking Device In Red
Write Review
Our Customers Rate Us
Questions?
Call 01708 853 232
One of our team will be happy to assist you! Lines open Mon to Sat 10am till 5pm
Description
Videos
Warranty
Other Details
Review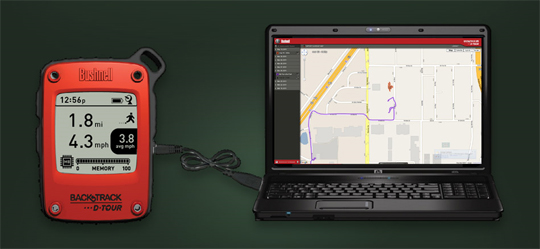 Long after your mobile service has faded, the Bushnell BackTrack D-TOUR has you covered.
With up to five storable locations, the D-TOUR allows you to not only save trailhead and campsite locations, but also log that hidden fishing spot where you caught last night's dinner.
In addition to providing simple distance and direction, the D-TOUR includes a self-calibrating digital compass, time, temperature, altitude and latitude/longitude coordinates.
Best of all, once you return from that epic adventure, you can easily upload up to 48 hours worth of data to a PC or Mac to relive the experience and share it with friends. At just six ounces and compact enough to store in a pocket or clip to your pack, the D-Tour will quickly become your preferred personal GPS.
Featuers
Easiest to use GPS. No map required.
NEW D-Tour Application to record your tracks
Visualize your track with Google Maps with the D-Tour App
Runs on Windows (XP SP1 or later) and MAC (10.4.9 or later)
Logs up to 48 hours of trip data
Utilizes the latest technology: SiRF Star IV GPS Receiver
Self calibrating digital compass that resembles an actual compass
Store and locate up to 5 locations
Provides distance and direction back to each location
Distances in Yards/Miles or Meters/Km (+/-5m accuracy)
Includes latitude and longitude coordinates
Include time/temperature/altitude
Backlit Grayscale LCD screen
Compact and lightweight, weighs only 80 grams
Carabiner clip included for easy attachment
Weather resistant
Works with 3 AAA batteries
Package includes 1 D-tour, 1 Quick-start Guide, 1 USB cable
Sku :
talk about this product with your friends!
comment for a chance to win awsome airsoft prizes. You must leave also post on facebook checked for a chance to win!