Toy Crossbow kit - the fox
Our Customers Rate Us
Questions?
Call 01708 853 232
One of our team will be happy to assist you! Lines open Mon to Sat 10am till 5pm
Description
Videos
Warranty
Other Details
Review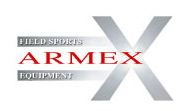 The Armex Fox Toy Crossbow is CE rated as a toy suitable for 8+ and parts suitable for 3+. All the sucker darts are glued to ensure full compliance with all European toy regulations.

This is the ultimate present for children of any age - if you can take it off Dad
The Fox Toy Crossbow.
Complete with 3 sucker darts, and two practice targets.
The toy crossbow is well made, very accurate and lots of fun.
It can be used indoors and out.
Easy to use, giving hours of fun to children of ages 8 and upwards.
This is a very popular gift for all ages and is a fun alternative to the bow, as well as being a great introduction into the sport of archery.
The crossbow measures 57.5cm (22.5'') x 44.5cm (17.5'').
Lightweight with an easy grip handle.
Extra suckers available.
Sku :
talk about this product with your friends!
comment for a chance to win awsome airsoft prizes. You must leave also post on facebook checked for a chance to win!