KIDS WELL FIRE TACTICAL SWAT VEST IN BLACK
Our Customers Rate Us
Questions?
Call 01708 853 232
One of our team will be happy to assist you! Lines open Mon to Sat 10am till 5pm
Description
Videos
Warranty
Other Details
Review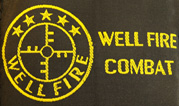 SPECIAL OFFER JUST £24.99
Wellfire Lightweight S.W.A.T Tactical vest with adjustable webing straps on the sides.
If you want to be cool like S.W.A.T. then you have to dress the part.
This well made vest can be used for many tactical applications thanks to its great design.
It has many pockets in the front and back for magazines and other gear so you are prepared for action.
it has 2 detachable button down Velcro pockets with penholders on the front of the vest
it also has the detachable wellfire logo patch and detachable s.w.a.t logos (one on the rear and one on the right brest pocket) so you can remove them and attach your own patches to the vest.
it has 2 large deep pockets on the front right big enough to hold mags ect and on the lest side there are 6 small utility pouches.
on the back there is another 2 big button down pockets and as small button down pouch behind the left shoulder
there is also 2 plastic dog clips and a webbing loop for hanging up the vest at home
the collar of the tactical vest is also padded for added neck protection.
the vest also has a zip on the front to do it up.
a all round great value starter tactical vest for airsofting
Made with polyester and a PVC coating to give extra durability.
Comes in all black.
Features:
Velcro And Button Snap Pockets
Cushioned Soft Collar
Velcro Swat Badges
Adjustable Straps
Includes:
one adjustable size
Sku :
talk about this product with your friends!
comment for a chance to win awsome airsoft prizes. You must leave also post on facebook checked for a chance to win!